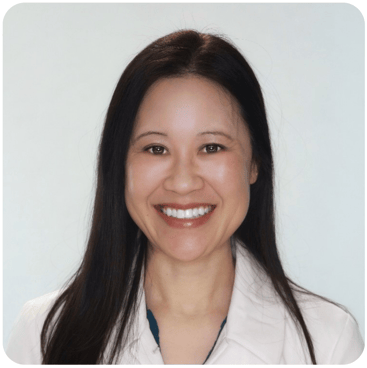 Dr. Wong has come a long way since her days as a candy striper at the local hospital when she was in high school. She learned a lot back then, seeing firsthand how small gestures—like sitting with a person waiting for radiation therapy and bringing tea to a person recuperating from surgery—can make a big difference, and that helping people smile and hang on to hope facilitates healing. She could imagine what it would be like to walk in their shoes back then, and over the years, she has only furthered her commitment to keeping the humanity in medicine.

By empathizing with others and taking time to explore their concerns, Dr. Wong contributes genuine kindness with deep expertise to the fight against cancer. At AccessHope, she effectively communicates with local oncologists and helps tailor their patients' treatment paths while considering all of the possibilities and their needs to achieve better outcomes.
Inspired by Dr. Wong's personal proclivities and professional viewpoints, we thought we'd get to know her a bit better—so we asked her a few questions:
Why did you decide to become a physician?
I wanted to give people who need medical care the knowledge and treatment they seek along with the kindness and respect they deserve. I also aspired to walk alongside them on their path of unwanted illness, guiding them and their families toward both physical and mental health and well-being. That road sometimes leads to a cure—but when it doesn't, my goal is to help them experience more good days than bad, however they may define that.
Why did you decide to work for AccessHope?
I largely believe in AccessHope's novel and innovative approach to improving access to quality and value-based cancer care. A unique opportunity exists here to overcome cancer health disparities, offering premier insights to anyone with cancer, no matter where they live. I also liked that the company is led by like-minded and driven individuals focused on swiftly delivering quality, humanized support, so I leapt at the opportunity to take on this challenge with them.
What's your favorite way that AccessHope has impacted the cancer community?
AccessHope brings people together, even when they're spread across the country, strengthening the fabric of the cancer community. We directly connect people with cancer and their treating doctors to renowned cancer experts, specialists, and researchers, promoting direct communication and a more fluid cancer care system.
One of AccessHope's brand personality traits is rebellious because we're recreating the established notion that people need to physically go to a cancer center to get leading support. How do you feel, personally, that we rebelliously approach cancer?
We need to aggressively, quickly, and nimbly respond to cancer because that's how the disease behaves. It doesn't follow any standard path but constantly warps and adapts to overcome barriers in its environment. At AccessHope, we recognize the need to fight fire with fire—and we do so mindfully and deftly. Liberated from traditional approaches and free of geographic barriers, we're better positioned to stay ahead of cancer, not chase it. That's what people and their families deserve.
What are some common misconceptions of hospice and palliative medicine? How have these programs impacted the quality and value of healthcare delivery for patients?
A common misconception is that hospice and palliative medicine (HPM) is "a last resort," akin to "throwing in the towel" or what doctors recommend when "there's nothing else we can do." On the contrary, HPM is intensive supportive care, where quality-of-life experts do absolutely all they can to provide personalized therapies that foster dignity and comfort.

HPM focuses on multidimensional care—of the body, mind, and spirit—helping people live better. HPM providers meticulously manage symptoms and offer psychosocial and emotional support, and scientific evidence shows that this kind of care can also help people live longer.
What's your favorite quote or motto?
I actually have two. "Treat every living being, including yourself, with kindness, and the world will immediately be a better place," from Timber Hawkeye; and "We make a living by what we get, but we make a life by what we give," from Winston Churchill.
What do you enjoy doing when you're not working?
Taking care of my little dog, finding reasons to laugh, cooking for people I love, and just gazing at the ocean.
What movie, book, or podcast are you watching, reading, or listening to now?
I'm listening to the audiobook of The Boy, the Mole, the Fox and the Horse by Charlie Mackesy. It was a gift from my dearest, most caring, and most beautiful friend, who said the message is the gift and the book the conduit.
If you could travel anywhere, where would you go?
While I used to want to travel all of the time (with the hope of making it to the Lake District in England), this last year has reminded me of the importance, and gift, of being home.