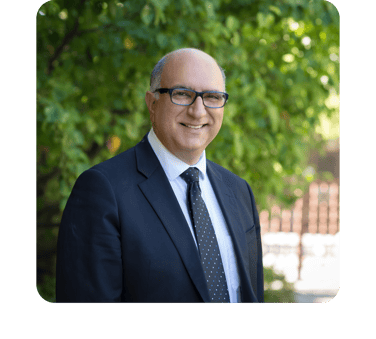 When Dr. Alvarnas was the Chair of the American Society of Hematology's Committee on Practice, clinicians often asked him how they could get better support in caring for their patients with complex cancers. In particular, these patients were those who had received difficult-to-interpret genomic testing results with the potential to experience improved cancer outcomes. Through AccessHope, Dr. Alvarnas can now respond to the question by sharing that our organization conveniently delivers real, sustainable cancer expertise to local oncologists across the country, changing lives for our colleagues and their patients while supporting them through the cancer journey.

Dr. Alvarnas helped create AccessHope to provide this extension of support when he saw the need to do more in the fight against cancer. Over his 25 years as a clinician caring for people facing the "implacable, merciless foe with infinite courage, unshakeable determination, unbreakable faith, and a singularity of purpose in moving past that moment that begins with the first utterance 'you have cancer,'" he knew a company like AccessHope could strengthen their path forward. By ensuring that the latest advances are equitably available to more people regardless of their ZIP code, the company reassures them that their path is the best one they can take.

As the only child of immigrant parents who sought a better life, Dr. Alvarnas always knew he'd be a physician. How did he get to where he is now, and what else has he been up to? We wanted to know, so we asked him these questions:
What was your first position in the healthcare industry?
One week after graduating from medical school, I started an internship that included working 120 hours a week, on overnight call every third night. I got one day off a month and did whatever I was told without complaining. Despite the demand, I received utter joy from serving patients as a physician—making it all worthwhile. Though many of my senior attending physicians at the time set an ossified, compassionless tone, my role in the patient journey inspired me to grow, improve, and remain grounded in my humanity.
What do you believe is your biggest contribution to the fight against cancer?
My hope is that I've made the biggest contributions in my countless conversations with patients and their families throughout my years of clinical practice. If I've humanized their cancer journey—whether they were at the beginning of it, near the end of life, or at a decade following their cure—I've achieved all I can hope to do.

I'd like to think that I've also made contributions as a researcher, but a cancer journey is a human experience, not a technological one. That's why I hope that I've most greatly contributed to the quiet conversations that no one else will ever know about.
How have new cancer innovations like CAR T-cell therapy improved personalized treatment for patients?
As a hematologist, I'm inspired by the pace of innovation that brings new care options and potential cures to patients. We now have a diverse, and rapidly growing, portfolio of previously unimaginable treatments that we can help more optimally align with each patient's needs.
One of AccessHope's brand personality traits is rebellious because we're recreating the established notion that people need to physically go to a cancer center to get leading support. How do you feel, personally, that we rebelliously approach cancer?
During my residency training program, many of the more senior clinical attendings on the teaching service used the word "bold" as a pejorative. They associated boldness with recklessness, rather than seeing that taking bold steps can create infinite possibilities for creativity and more-humanized care.

AccessHope was born in the bold, fearless belief that we could change the meaning of a cancer diagnosis by taking a different approach in how we work with clinicians and their patients across the country. The traditional underpinnings of bricks-and-mortar medicine represent the foundation of where we began—they should never represent the ceiling of what we can dream to achieve.

Steve Jobs wrote, "The people who are crazy enough to think they can change the world are the ones who do." At AccessHope, we're willing to dream and think in ways that empower us to grow and change lives. Rebellious, fearless, determined, focused, impassioned—these all describe how we move boldly forward.
Learn more about AccessHope from Dr. Alvarnas in this 2-minute video:
This video clip comes from a panel discussion Dr. Alvarnas participated in during Northeast Business Group on Health's 2021 Annual Wellness and Wellbeing Forum. The session was titled Cancer Screening and Prevention in Disparate Populations.
What's your favorite quote or motto?
"When the wind stops, you must row."
What do you enjoy doing when you're not working?
I enjoy spending time with my wife and children. They keep me grounded, set me in my place, and remind me of the things that matter most. I also enjoy cooking—given a chef's knife, a pan, fresh ingredients, and a hot flame, it's hard to go wrong.
What movie, book, or podcast are you watching, reading, or listening to now?
Considering I've spent years taking care of patients and their families facing a cancer journey, I don't look toward movies or TV to remind me that life can be difficult, complex, or tragic. Faux impressions of life all pale miserably in comparison to the real thing. So, my tastes in entertainment are decidedly lowbrow. I'm currently enjoying the animated Star Wars: The Clone Wars series with my children. Clone troopers, lightsabers, the Jedi—they're all great action unburdened by overwrought, fake complexity.

I also enjoy listening to music on YouTube. I've discovered a slew of amazing artists in my preferred genres (progressive rock and jazz) that would never, ever get played on the radio. I like discovering new artists who are willing to take risks with their music without worrying about appealing to everyone's tastes.

My reading tastes are quite dichotomous. I really enjoy low-rent action/adventure spy thrillers with no one being quite what they seem and lots of explosions. I also relish working my way again and again through timeless poetry of Shakespeare, Dante, Tennyson, Neruda, and Eliot. When I want my brain to really hurt, I reach for the works of theologian David Bentley Hart.
If you could travel anywhere, where would you go?
Paris. My 7-year-old son keeps asking to see the tower in the photo in our bedroom. After a devastating year of the COVID-19 pandemic, it would be nice to see the City of Light again, take in its smells and tastes, and just breathe freely with my children