When I decided to focus on lung cancer more than 20 years ago, many people asked me why, as if I had lost a bet. Back then, lung cancer was best known as a common cancer with ineffective treatments and little progress toward survival. Since, however, we've seen tremendous discovery that has translated into new treatments representing true breakthroughs for patients. Many insightful, talented specialists are now shifting their clinical and research focus to lung cancer, which is creating a virtuous circle of advances and therapies.

Still, too many of my patients seek information from Dr. Google, only to see disheartening statistics and descriptions of expected outcomes. This increasingly outdated summary of lung cancer is especially frustrating for oncologists who see the improvements firsthand in the patients they treat every day.

We now know about new molecular markers for many cancers that have matched targeted therapies, often available in pill form. These therapies can lead to unprecedented probabilities of tumor shrinkage that potentially lasts far longer than we could have ever imagined, often causing very minimal "collateral damage" as side effects. Many of these drugs reach the brain to inhibit the development of feared brain metastases that may limit a person's functional capacity.

Over the last decade, we've seen immunotherapies emerge that harness the capacity of a patient's own immune system to recognize and attack their cancer. Though the benefits of immunotherapies remain variable, many of our patients are showing dramatic and prolonged outcomes, with or without standard chemotherapy. In fact, some of these responses are so long-lasting that even after patients diagnosed with metastatic (advanced) lung cancer have stopped taking active treatment, we can rightfully ask if they could actually be cured of their cancer. That remains a debatable question, but just that we could argue curability for a subset of patients with metastatic cancer is a tremendous milestone.

Yet, we haven't seen this real-time progress in population statistics—until now. The new Annual Report to the Nation on the Status of Cancer is showing that the overall cancer death rates have decreased for men, women, and children (ages 0 to 14); and much of the overall progress was in lung cancer, where the average annual cancer death rate decreased by 5.2% for men and 4.3% for women, showing year-after-year benefits.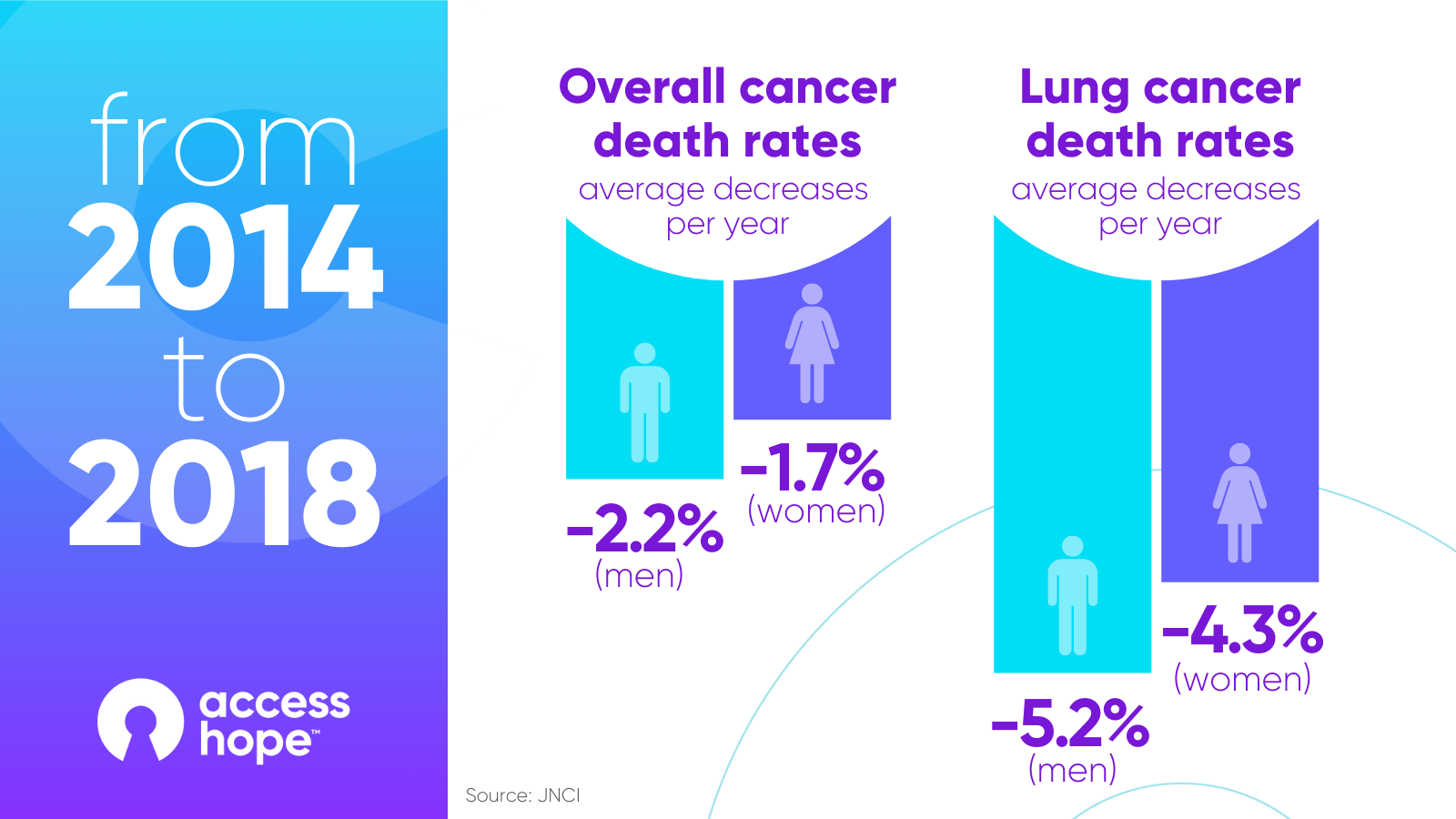 These rates don't give us the details, but the 10,000-foot view shows us that the improvements we're seeing in our patients are aggregating into dramatic improvements in the broader population. Oncologists now expect to see further progress every year, and these advances are poised to continue enhancing these statistics into the future. Ideally, patients facing a new cancer diagnosis can feel hopeful that the research creating new treatments today will continue to help them live longer and better lives for years to come.
Authored by Dr. Jack West.
Last medically reviewed July 28, 2021
While our cancer specialists are leaders in the oncology field, AccessHope provides remote cancer support services through employer-sponsored benefits, not oncologic treatments or care, or advice directly to individuals.