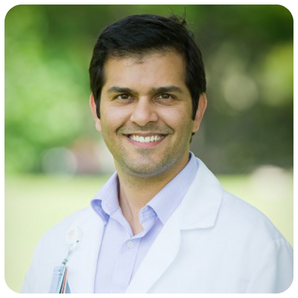 Nitya Nathwani, M.D., joined AccessHope as a part of its Expert Oncology Team. Dr. Nathwani's clinical and research interests center on multiple myeloma. He has been the principal investigator at City of Hope for 2 landmark clinical trials in multiple myeloma, including quadruplet induction therapy that has changed the myeloma treatment landscape, and a trial defining the role of transplant in the US.
Dr. Nathwani is a member of the Judy and Bernard Briskin Center for Multiple Myeloma Research at City of Hope, where he has led multiple studies, including an assessment tool for older adults with multiple myeloma with the potential to increase the safety of myeloma therapy. He will continue to serve as Associate Professor in the Division of Multiple Myeloma and the Department of Hematology and Hematopoietic Cell Transplantation at City of Hope.
Why did you decide to become a physician?
I come from a family of physicians. During medical school and my internship, I struggled to decide between following my father's footsteps to become a cardiologist, or charting my own path and becoming a hematologist.

What ultimately solidified my decision to become a hematologist was an experience treating a young woman with acute leukemia during my hematology rotation. My grandfather had the same type of cancer 15 years prior and passed away from it within months. The advances in cancer treatment resulted in excellent outcomes for that patient, and nowadays, this subtype of leukemia, if treated adequately, has a very high cure rate. The fast-paced advances in treatment and research, combined with the ability to provide personalized care for individuals appealed to me.
Why did you decide to work for AccessHope?
I've been aware of AccessHope for several years, through my work at City of Hope. Before coming onboard as a part of the AccessHope physician team, I was reviewing cases on behalf of City of Hope. As a result of that work, I gained an appreciation for case reviews. Performing case reviews provided the ability to help patients through their own treating oncologist and enhance cancer care for those individuals. My personal mission aligns with AccessHope's to democratize cancer care.
What's your favorite way that AccessHope has impacted the cancer community?
AccessHope's ability to deliver the latest cancer knowledge and expertise from leading NCI centers to patients treating oncologists is my favorite way we positively impact the cancer community. Additionally, our case reviews have the ability to enhance patients' treatment nationwide without them having to leave their home, support system, or treating oncologist
How have new cancer innovations in myeloma therapy improved personalized treatment for patients?
Multiple myeloma is the second most common hematologic malignancy and, although there have been tremendous advances in treatment, it is not currently thought to be curable.

It was my privilege to participate in a landmark study involving "Triplet Therapy, Transplantation, and Maintenance until Progression in Myeloma," that was recently published in the New England Journal of Medicine, offering significant findings for the future of patient care. Findings from the trial solidified that while transplantation (meaning, using high dose chemotherapy with a patient's own stem cells for support) remains a backbone of therapy for eligible patients, treatment is not a "one size fits all" approach; instead, results stressed the importance of personalized medicine with individualized treatment based on disease risk status, and depth of response. Additionally, this momentum, and the tremendous advances in immunotherapy holds great promise for the future, wherein standard risk patients who achieve sustained and very deep remissions (called minimal residual disease or MRD negativity where they have less than 1 in 100,000 or sometimes even less than 1 in a million cancer cells by sensitive molecular testing methods) may be able to discontinue treatment, bringing us much closer to our ultimate goal of curing multiple myeloma.
If you weren't a physician, what other profession would you see yourself doing?
I briefly thought about going into business, in fact my family built a network of diagnostic laboratories in Mumbai while I was growing up, and while that was also interesting to me, I never seriously considered doing anything other than medicine.
What's your favorite quote or motto?
Do unto others as you would have them do unto you.

This is my motto in both my personal and professional life. In medicine, it's key to remind yourself that your patients and their family members are looking to you to care for them as you would your own family.
What do you enjoy doing when you're not working?
I love traveling, which has been challenging the last couple of years. I enjoy cruises: they give us the ability to see multiple locations in one trip. I hope to get back to a regular cadence of traveling in the future.
What movie, book, or podcast are you watching, reading, or listening to now?
My wife and I recently finished and thoroughly enjoyed the show "Inventing Anna." We also love anything Nicole Kidman is in, like The Undoing. Otherwise, you can find me watching reruns of The Big Bang Theory or Friends.