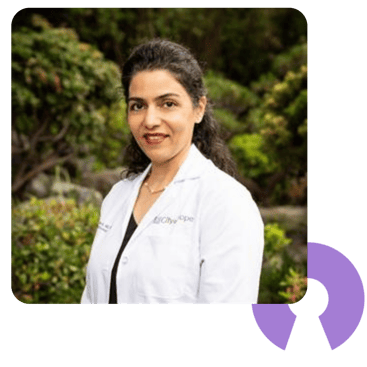 Dr. Barzi is committed to helping people with cancer and their families crucially make the best decisions for themselves amid the surrounding uncertainty. In fact, she considers her ability to communicate current and future treatments and guide patients to the most personalized options for their type of cancer her strongest contributions to the cancer community.
For AccessHope, Dr. Barzi reviews cancer cases to bring knowledge on the rapidly evolving treatments of today to local oncology practices. As a cancer care delivery researcher, she passionately believes that AccessHopeoffers an exemplary model for improving access to this support for every patient, regardless of their geography.
We wanted to learn a bit more about Dr. Barzi, so we asked her a few questions on her background, her experience with AccessHope, and her life outside of the company.
What was your first position in the healthcare industry?
I worked at a startup company that developed artificial intelligence software to address common medical concerns. The work changed my perspective on how technology can revolutionize healthcare delivery, prompting me to pursue my PhD in Health Management and Health Policy.
Why did you decide to become a physician?
A physician bridges science and compassion. While I'm excited by scientific discoveries and advances, I feel true gratification when interacting with cancer patients who need healing. No other profession is as fulfilling!
How have new cancer therapies improved personalized treatment for gastric cancer patients?
Gastric cancer as well as its treatments are associated with significant symptoms and side effects. Therefore, drug development for this disease is very challenging. Through global collaboration and a focus on biomarker-based drug development, new and personalized treatments are finding their way to patients.
For example, in January 2021, a drug targeting HER2 pathways called ENHERTU® received FDA approval. This approval was remarkable progress for personalized treatment for patients with HER2-amplified gastric cancer, as seven large trials from 2011 to 2021 had failed. Additional approvals in the pipeline will also significantly impact the livelihood of patients with gastric cancer.
What's your favorite way that AccessHope has impacted the cancer community?
Many patients who have been diagnosed with cancer start their treatment without access to anybody who can validate their plan. The treatment they receive is their only reality! AccessHope offers them an alternative reality—intersecting with patients on their cancer journey, giving them more control along that journey, and working closely with their local physicians to help get them to their desired destination.
What's your favorite quote or motto?
"To boldly go where no one has gone before." It's human nature to want to explore ways to advance ourselves, our societies, and the human race. Fighting cancer is my frontier—I'm hopeful that with AccessHope, we'll boldly go where no one has gone before.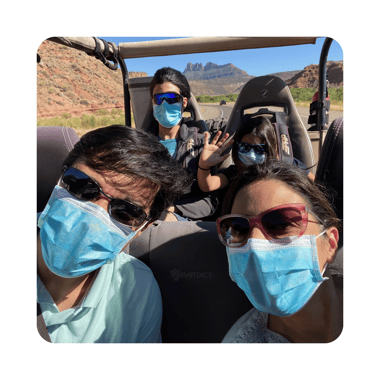 What do you enjoy doing when you're not working?
"Kid-ding"—I have two kids, and I spend most of my time away from work with them. We cook, go on long walks, watch movies, and play games.
What movie, book, or podcast are you watching, reading, or listening to now?
I'm currently reading Originals by Adam Grant and listening to Deep Medicine by Eric Topol. I recently watched the movies The Life Ahead and Parasite, which were both impressive. I also enjoy watching The Big Bang Theory.
If you could travel anywhere, where would you go?
Anywhere? I'd choose the International Space Station! On planet Earth, though, I'd like to visit Egypt, the cradle of civilization.