We are thrilled to announce that AccessHope has been selected as a quarterfinalist in the Employer Subsidized Wellness category for the prestigious Digital Health Awards, presented by the Digital Health Hub Foundation.
This recognition highlights the company's dedication to increasing access to the latest cancer care expertise for all. The Digital Health Awards celebrate organizations that demonstrate excellence in leveraging digital advancements to enhance healthcare services and patient outcomes. As a quarterfinalist, AccessHope stands out for its commitment to ensuring employees and their families receive access to lifesaving cancer innovations and expertise, regardless of where they live.
Out of a substantial pool of over 1,500 submissions, only the most promising 16 quarterfinalists per category, per track have advanced to this stage.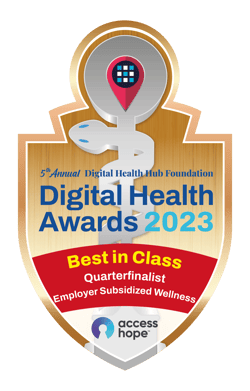 "This year has been our most competitive yet as we've received a great surge in submissions, numbering in the thousands, pouring in from companies around the world. We are so impressed by the pioneering work in digital health happening on a global scale. Congratulations to all of our quarterfinalists on their notable success," remarked Mark Goldstein, Chairman of Digital Health Hub Foundation.
Finalists will be announced September 22, 2023 and the winners will be announced at the Grand Finale taking place at HLTH in Las Vegas at the Las Vegas Convention Center, West Hall on the Moon Stage on October 9, 2023.
AccessHope serves over 5 million plan members who have its cancer support services through more than 140 employers including over 35 of the Fortune 500, and collaborative relationships with a growing number of health plans, third-party administrators, health care platforms, and health care services companies.