A new study published by the peer-reviewed medical journal JCO Oncology Practice inaugurally validates our clinical impact on lung cancer cases from April 2019 to November 2020 (during the COVID-19 pandemic). The findings show that our cancer specialists provided recommendations to influence 93% of cases. Accompanying the clinical benefits was an average of $19K in savings per patient.
---
Study population

Case variability
Molecular testing patterns in practice
---
Study population
From the lung cancer cases that AccessHope received, 85% of them were from community-based oncologists. 55% of the cases were for men and 45% were for women, and their median age was 62.5. 18% were never smokers, 57% were past smokers, 26% were current smokers, and 1% were unclassified, which reflected the medical oncology clinic population.
Case variability
The pattern of cases over time showed marked variability from month to month, depending on the case inputs from our employer clients referring their employees with cancer to our services. However, case volumes clearly increased over time despite the challenges introduced by the COVID-19 pandemic in 2020.
Clinical impact
Our National Cancer Institute (NCI)–level subspecialist agreed completely with the treating oncologist's treatment plan, offering no additional recommendations, in only 7% of cases. In 93% of cases, the subspecialist provided evidence-based recommendations for current or subsequent care while proactively engaging the local doctor in a collegial collaboration to discuss the case review. The recommendations were associated with clinical outcomes such as improving efficacy, reducing toxicity, and enhancing care.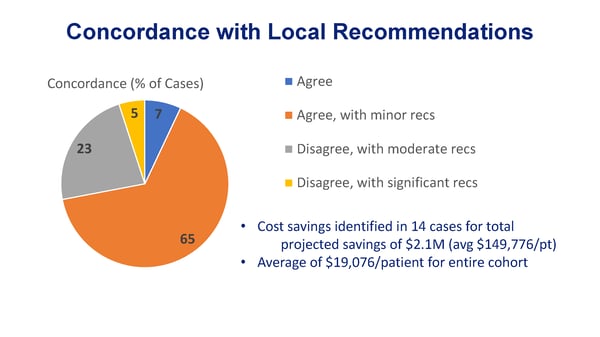 Of the 93% cases in the study that our specialists offered new recommendations on:
28% included significant changes to the treatment plans, when the subspecialist disagreed with the current management based on available clinical evidence
65% included more-modest refinements to treatment plans, including subsequent treatments, supportive care interventions, and other plan details based on available clinical evidence
To provide the recommendations, our subspecialists leveraged leading subspecialty expertise to develop a case review report with commentary on the prior workup and therapies as well as the current treatment, and suggestions for any potential changes in management and future options. The subspecialist then sent the report to the doctor while offering to directly discuss the recommendations, as their patient continued to receive care close to home.
Cost savings
Notably, in 14 of the 110 cases, AccessHope identified low-value interventions that could be eliminated, such as surveillance with serial PET/CT scans or costly treatments with no anticipated benefit. The recommendations led to an average savings of nearly $150K per case in these 14 cases and an average of just over $19K per patient across the entire population of cases reviewed.
Molecular testing patterns in practice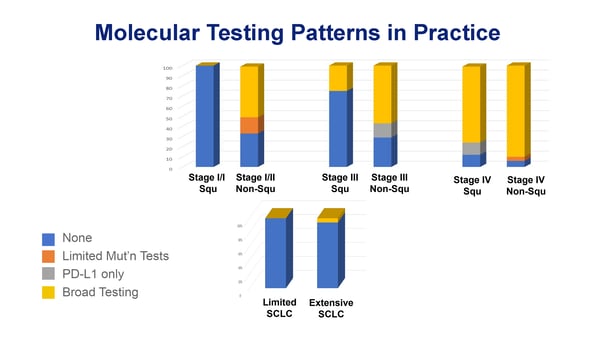 Reviewing these cancer cases provides an opportunity to detect a range of practice patterns. By looking at molecular marker testing across the landscape of thoracic oncology, we saw that testing was only ordered for one of the 19 small cell lung cancer (SCLC) cases, which is consistent with the lack of a clear role for this testing in SCLC.
For patients with non–small cell lung cancer (NSCLC), we saw that molecular testing was more commonly ordered for non-squamous than squamous stage for stage, increasing for both groups with stage progression. This finding is also consistent with the clearest role for molecular testing in advanced (stage IV) non-squamous NSCLC.
The most commonly performed molecular testing was broad next-generation sequencing (NGS) to look for a wide array of potential mutation targets, reflecting the growing constellation of relevant markers with therapies to treat them. Given the complexities of the many new potential targets and treatments, the growing role for NGS testing underscores the increasing value of subspecialists' insights and support on case management.
Overview of case reviews
Accessible through AccessHope's benefit of cancer support services provided through large U.S. employers and health payers, case reviews can be requested by employees or automatically triggered when an employee receives a complex- or rare-cancer diagnosis with a challenging prognosis.
Our recommendations include the latest research findings and any appropriate medications, tests, or clinical trials associated with improved clinical outcomes. By connecting with employees' treating oncologists, our cancer subspecialists provide insights that these doctors may use to develop precise treatment plans for the best outcomes possible.
Learn more about our cancer support services at myaccesshope.org.
Download the full paper
Click here to download a copy of the full paper.